Home Study – Past Life Regression Therapy Course
10 CE hours
Approved by the American Council of Hypnotist Examiners. Accepted by IMDHA, IHF, NGH.
Complete the exam and turn in two practice sessions to receive your certificate.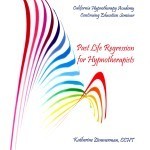 Pre-requisite: hypnotherapy training & age regression
"I took a Past Life Regression workshop with Brian Weiss thinking I would learn something new.  However, Katherine had already given me all the tools! There was nothing 'new' that wasn't covered by Katherine's past life course."  Donna Jean Rains, CHT
This course covers the philosophy of reincarnation and its application in hypnotherapy. Through this therapy we will explore the soul's current choices and relationships. We will explore past life talents and abilities, individual and couples past life regression and how to conduct group past life workshops.
We have included the highlights of this two day training so that you can learn in the comfort of your own home. No travel, no hotels, no hassle. This material is suitable for those wishing to learn Past Life Regression therapy as well as those who simply need a refresher in this subject.
Included in the your course
Demonstration DVD, Audio CD, manual
Twelve Traits Present with Past Life Regression
Exploring the Present to Find the Past
How to Recognize Past Life Memories
The Past Life Pre-talk
Two Past Life Scripts
Past-life Disorientation in Children
Outline for Past Life group
Exam
Student Practice Log
$239.00

Deluxe Edition
In addition to the material above, the Deluxe Edition includes a 90 minute session with the instructor to discuss problematic clients or for a personal past life regression session. Appointment in person, via Skype or phone. A $195 value. 1.5 CE hours for hypnotherapists
$100.00