Hypnotherapy Training Catalog
California Hypnotherapy Academy
Katherine Zimmerman, Founder/Director
2017 Hypnotherapy Training Catalog
Download the catalog or scroll down to read it here
Independent Study in San Diego or via the internet
Thanks to the internet, you are no longer limited in where you receive your hypnotherapy training. If you are local, we offer small classes in San Diego. If you live in another part of the state or country, the independent program may best fit your needs. The 200 hour program includes demonstration DVDs, manuals, e-books, audio lecture CDs and 40 hours one-on-one with the instructor. Hypnotherapy is learned best from the inside out. With this training you have the opportunity to have supervised practice as well as heal your own issues.
Level 3 courses are either in person or home study. If have been  trained but need CE hours, click here for our home study courses. http://hypnosis-continuing-education.com/ Then click on CE Courses.
The California Hypnotherapy Academy is dedicated to providing high quality professional training in hypnotherapy. Our basic 200 hour program prepares you to open a private practice. A 100 hour advanced level is available to deepen your experience in working with clients.
You can learn Clinical Hypnotherapy
There is great satisfaction in being part of a helping profession. Many people take this training for personal development. Through lecture, live demonstrations and supervised in-class practice, you will learn skills that will change your life and the lives of those you help. If you have a sincere desire to help others, this hypnotherapy training course is for you!
Courses at the California Hypnotherapy Academy are open to members of the American Council of Hypnotist Examiners (ACHE).  The ACHE has a category for non-certified Student Membership. Student Members must have a sponsoring school because Student Membership is limited to persons who are enrolled or preparing to enroll in an ACHE-approved school. This membership is valid for up to two years. Like Certified ACHE members, Student Members are eligible to receive the ACHE newsletters as part of their membership and to receive the discount to ACHE Conferences. To maintain ACHE membership, within two years a student member needs to successfully graduate from an ACHE-approved school and apply for certification via the ACHE application form. Until the student becomes certified, if the student advertises ACHE membership he/she must clearly state being a "Student Member" with no reference to certification. The fee for Student Membership is $25. Click here for additional information about the ACHE: http://www.hypnotistexaminers.org/

Apply for student membership here: http://hypnotistexaminers.org/certification/student-membership/
Here's what you will receive with your enrollment and course completion:
•    Manuals for each course                 •   Audio lecture CDs
•   Internship opportunities                    •   Demonstration DVDs
•   Supervised hands-on training            •   Specialized training courses available
•    Individual/Small group study            •   Client referrals upon graduation
Benefits of this program

40 hours one-on-one with instructor for the basic 200 hour program
Well trained, experienced instructor
Reasonable tuition
Continuing education units for hypnotherapists
Qualify to be certified by the American Council of Hypnotist Examiners
Learn at your own pace
You'll learn innovative hypnotherapy techniques
•    How to use hypnosis to alter unwanted habits such as cigarette smoking or overeating
•    How to catapult basic motivation into a powerful desire to change
•    How to tap your intuition to facilitate change for your clients
•    How to write effective suggestions
•    How to make hypnosis recordings to reinforce the changes
•    How to listen with your heart and be fully present
•    How to clear issues from your own so that you may assist others
•    How hypnosis will change your life
The Curriculum
Hypnosis and Neuro Linguistic Programming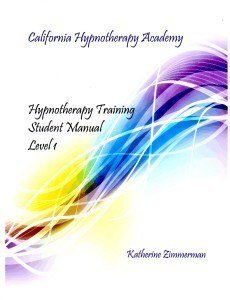 Level One – 100 hours
Pre-requisite: None
•    History of hypnosis                   •  Theories of hypnosis
•    Developing rapport                   •  Suggestibility/concentration tests
•    Pre-induction interview             •  Pacing, leading and practice patter
•    Induction techniques                 •  Recognize codependency
• Waking/conversational hypnosis  •  Interview skills
•    Deepening techniques               •  Habit control
•    Stress Reduction                       •  Somnambulism
•    Ideomotor methods                   •  Reframing
•    Anchoring & post hypnotics     •  Accelerate physical healing
•   Transforming resistance             •  Techniques to learn self-love
•    Introduction to NLP                  •  Eye accessing cues
•    Language patterns                     •  Persuasive techniques
•    Mirroring and matching            •  Pattern interrupt
•    Advanced anchoring                 •  Strengthening boundaries
•    Intuition                                     •  Grounding & centering
•   Releasing control                        •  And much more!
Manual included. Additional textbook required. 10 practice sessions required.

Applied Hypnotherapy
Level Two – 100 hours
Pre-requisite: Level One
•  Age regression                                     •  Analytical hypnotherapy
•  Affect bridge                                        •  Hypnosis for Health
•  Subpersonalities                                       •  Weight & Smoking
•  Inner child                                            •  Ericksonian language and metaphors  

•  Gestalt dialoguing                                 •  Non-traditional inductions
•  Future pacing                                       •  Hypnosis and dreams
•  Fears and phobias                                •  Presentation skills
•  Rapid inductions                                   •  Etheric plane communication
•  Working with children/teens                  •  Teaching classes/workshops
•  Guidelines for creating your own business    •  Marketing and advertising
•  Tips and techniques for recording                •  Developing product
•  And much more!                                         •  Exam
Manual and two e-books included. Additional textbook required. 10 practice sessions required.
Ready to register for Levels 1 and 2? Contact me for a brief phone or in person interview.
Advanced Hypnotherapy & Continuing Education Courses*
Re-Vision –  10 CE hours
Pre-requisite: Levels one and two or comparable training from another institution
"You've got to vibrate slightly different from where you are if you are going to improve where you are"   ~Abraham
What is the Re-Vision Process?
The process we'll be learning comes as a gift from Spirit. It is a new process combining hypnosis, energy work and a simple application of the Emotional Freedom Techniques along with learning how to create the energy of what you desire.
While no one process will magically heal everything, there are many dependable benefits clients will most likely experience. These include…
•    A deep sense of happiness and contentment
•    Increased sense of freedom
•    Greater ease in relating to others
•    A deeper spiritual connection
•    A greater sense of lightness and clarity
Kind comments from recent students
"This is clearly a gift from Spirit – incredibly powerful – helped me move through a blockage that's been holding me back for years." Jo Pettit, CHT
"Katherine, you are warm, non-judgmental, encouraging and open to what is needed. Great course." Helene Beddingfield, CHT
Future Life Progression   15 CE hours for hypnotherapists
Pre-requisite: Levels one and two or comparable training from another institution
• What if you could custom design your own destiny?
• Speed up your future success?
• Reveal your future talents?
Simply put, you can.
Have you ever wished that you could go back 10 years and give yourself advice? You would benefit, wouldn't you?
So why not go to a potential future and give your current self advice?
The more I use this process the more excited I am about the possibilities and ways that clients can benefit. Based on the work of several experts in future life work, this training will teach you how to guide your clients far into their future and into their future lives. They will experience first hand the outcome of their current choices. Once they make a different choice in the here and now, they will affect their future. Includes manual.
The Emotional Freedom Techniques – 15 CE hours for hypnotherapists
Pre-requisite: Levels one and two or comparable training from another institution
Imagine techniques so simple and so effective that you can learn another way to help your clients remove negative emotional issues and blocks that have interfered with their goals. The Emotional Freedom Techniques (EFT) and Be Set Free Fast (BSFF) are quick and powerful and blend extremely well with hypnosis. Experience the power and effectiveness of these easy to use tools to create immediate and permanent change.
Day 1: Learn the basics in depth; Day 2: Apply EFT to weight, smoking, and stress. Manual included. (Also available as home study)
Past Life Regression Therapy – 15 CE hours for hypnotherapists
Pre-requisite: Age regression. This course covers the philosophy of reincarnation and its application in hypnotherapy. Through this therapy we will explore  the soul's current choices and relationships. We will explore past life talents and abilities, couples past life regression and how to conduct group past life workshops. Manual included. (Also available as home study)
Spirituality & Intuition – 15 CE hours for hypnotherapists
Pre-requisite: None. Discover how to connect more fully with the "wind beneath your wings." In this experiential seminar you will have an opportunity to expand your natural intuitive gifts and tune in more fully to the ever-present Divine guidance.
Through group and one-on-one exercises you will expand your natural intuitive gifts in order to hear Spirit's guidance. Includes processes to assist you in connecting to your spiritual guidance.  If you are in a therapeutic or change work field you will also learn ways to work at a deeper level with your clients. There will be time in class for practice sessions. Manual included.
Mentoring – 10/20 hours -Click here for details: http://hypnosis-continuing-education.com/mentoring/
Intern Program
Option 1
Develop a protocol – weight, smoking, anxiety, grieving (topic to be approved by instructor) and test with a minimum of 6 clients, write up results – 20 hours
Option 2
Plan class material, develop marketing plan, teach material and write up results. Turn in copies of flyers, ads used to promote the class, syllabus, handouts and evaluations – 20 hours
The intern program also involves mentoring. Plan to meet with your instructor for two 1-hour sessions to discuss plan and strategies for accomplishing the plan.
*Accepted for Continuing Education (CE) credit by ACHE, IMDHA, IHF, NGH
Questions? Contact Katherine Zimmerman at 619-710-9583
info@trancetime.com  •  www.trancetime.com
Hypnotherapy Training Tuition
Schedule of Charges – 2017
Tuition & Fees:
Level 1 – 100 hours*     $2,150.00 (Add $150 to use the payment plan)
Level 2 – 100 hours*     $2,150.00 (Add $150 to use the payment plan)
Each additional lab/instructor contact hour     $50.00
Level 3 – CE courses 10-15 hours each weekend    $289-399.00 (discounts for early registration)
Intern Program – 20 hours    $250.00
Books for Level 1 & 2 (Approx. cost) order online    $150.00
Specialty Class with Guest Instructor (discounts for early registration)   $425.00
S&H course materials    TBD
*Included in tuition: manual, audio CDs. Level 1 DVDs: Hypnosis Inductions, Initial Interview, Reframe & Anchor, Therapeutic NLP.
*Level 2 DVDs: Age Regression, Cutting Cords.  Level 2 includes two E-books: Business Solutions and Hypnosis in Action.
Payment Plan available.
Testimonials from Katherine's former hypnotherapy students:
"Studying in the Independent program has been a double-blessing – not only do I get the flexibility of fitting the training around my schedule but I also get the opportunity for one-on-one instruction with a master teacher in the hypnotherapy field. Katherine is extremely thorough and extremely professional and I feel like I am getting the depth of training necessary to adequately prepare me to be a confident and successful hypnotherapy practitioner."    Nicki Parr, M.A., CHT

"Katherine is a wonderful teacher and her course is outstanding at every level. Her teaching style is hands on and the classes are very participatory. Students begin practicing hypnosis during the very first weekend class. Katherine's style is to discuss a technique (and she teaches many), then demonstrate it with one of the students. After that, the students begin practicing it on each other, under her close observation. Within a week of my first class, I was successfully using the techniques she taught us with my own clients. The results have been nothing short of remarkable. What I thought would be just another tool in my therapeutic toolbox, has become one of my primary tools. I wholeheartedly recommend Katherine and The California Hypnotherapy Academy to anyone interested in learning more about hypnosis and hypnotherapy."     Ray Brown, PhD, LMFT, CCHT

"You are one of the best instructors I have ever had. You are organized and present the material in a professional manner. Your instructions are easy to follow and you are patient with the class. It's obvious that you enjoy what you are doing and love hypnotherapy. This course has offered me growth – I could never figure out 'what I was supposed to be doing', but I've found it now.  Too bad I didn't figure this out sooner – but it's not about the quantity of time, it's quality… So, I will go forth and do good things and always be very grateful for the good training I received from you."     Kathleen Spring, CHT

From a former student to a prospective student:
"I was on the fence when I first started really contemplating making the commitment to complete the training as it is time consuming and it does cost money. But I do have to say, the investment I made in taking her classes is one of the best things I have done to improve my work with others as well as for myself.
…working with clients in any capacity, whether it be for the county, private practice, group home, psych hospital, school based, etc….. the most important thing is to be able to not only build rapport and stabilize the patient or client, but to really use your skills in the most effective way to be the catalyst for change and help the client feel safe enough to make the changes they need to live a more happy and healthy life – to feel empowered enough to even take the first step..
I truly thought I had a lot of skills to help clients; …and I have to say that with all the training, education and experience I had, attending the classes for hypnotherapy opened a entire new way of learning how to both take care of myself but more importantly to help facilitate change in my clients from a very different theoretical perspective. Since I have graduated, I have been able to join other therapists and have been thriving in private practice using many modalities, including CBT, humanistic, behavior modification as well as incorporating the strategies and techniques learned in hypno class. I never would have believed that I could be successful in private practice to the point where I am now turning clients away due to not having time in the day to see all of the new referrals.
Katherine is awesome and has been very helpful in helping me see that I cannot lead client's down paths where I have not been willing to go myself. And I have to say, I have grown significantly both in my skills and confidence levels from taking that initial risk to commit to completing the courses.
I truly hope you take that risk. You will be amazed at the outcome…"    Karen Cisneros, MFT, CHT

"Katherine is a clear communicator and a wonderful teacher. She brings presence, aliveness, and heart to her work. The material she teaches is transformative. I highly recommend her."
Stewart Mintzner, CHT

"Being taught Hypnotherapy by Katherine Zimmerman was enlightening to say the least. Her method of teaching was fun and yet very business oriented at the same time. She is very approachable and caring of all her students. She is one of my favorite teachers and a great asset in any field of her choosing. I thank her for the great strides I made with my own issues. I would recommend Katherine Zimmerman to anyone who desires to go into Hypnotherapy." Maureen "Martie" Johnson, CCHT, Spiritual Counselor

"Thank you Katherine, I thoroughly enjoyed your [EFT] class. You did a brilliant job of organizing and presenting your material in an easy to understand format that allowed me to experience the benefits of EFT… I will incorporate this powerful technology into my practice and personal life with deep appreciation for your profound contribution to my life skills…"     Jesse Dean, CHT

"Your style is unique in that you have a way of 'becoming one' with the students you teach. You integrate yourself so well that one feels they are listening and responding to a good friend who knows and understands their problems. You begin helping them overcome obstacles, and reach beyond themselves as soon as you start talking. Your unshakable self confidence envelops the student creating the necessary atmosphere in which to grow and learn. As I observed this remarkable teaching skill, respect and admiration have only grown since I first sat in your class.
"You have an exceptional ability to enable people to understand the basics – 'you have a choice' – and 'you have the answers within you.' By conveying this realization with humor the walls of resistance dissolve and one finds that learning in your class is an experience. I've always looked forward to your classes with great anticipation, as I know I'll enjoy them and will learn something new."
Mary A. Caldwell, CHT
The Instructors:
Katherine Zimmerman, the main instructor for the course, is an internationally-known author and speaker, Certified Clinical Hypnotherapist, Reiki Master, and EFT Practitioner with a PhD in Behavioral Sciences. In practice since 1989, she has taught classes on self-hypnosis, EFT, and other related subjects, along with doing presentations on hypnotherapy at professional conferences nationwide.
Katherine is a former guest instructor for northern California hypnotherapy school and a regular hypnotherapy instructor since 2003. She is a former guest lecturer for the University of California, Davis Family Nurse Practitioner program. A prolific writer, Katherine's published works include Business Solutions; Hypnotherapy Scripts Volumes 1-4; a series of Instructor's Manuals.
Click here for a listing of Katherine's books: http://trancetime.com/store/books-for-hypnotherapists/
Guest Instructor (San Diego courses)
Joan Courtney, PhD, CHT is a Clinical Hypnotherapist and a Neurolinguistic Programming (NLP) Practitioner. Joan specializes in clinical and medical aspects of hypnosis and is affiliated with and referred clients by healthcare professionals. Throughout her 25 year practice, she has worked with veterans and others affected by symptoms of PTSD. In addition to small group work and speaking engagements, she teaches classes at Northland Pioneer College (NPC)
Certification and Registration
All students who successfully complete a total of 100 hours encompassing both classroom and directed independent study time, will be presented with a Certificate of Completion from California Hypnotherapy Academy. After 200 hours of training students are prepared to open a private practice.
After successful completion of the exam, students may be certified by the American Council of Hypnotist Examiners and granted the title of  Hypnotherapist.
After 300 hours of training, students may join the American Council of Hypnotist Examiners as a Clinical Hypnotherapist. Application and information available from the California Hypnotherapy Academy.
As a prospective student you are encouraged to review this catalog prior to signing an enrollment agreement.
Institutional Policies
Admission Requirements: Students must be at least 18 years of age and have a high school diploma or GED. No prerequisite for admittance into Level 1. 100 hours of training in hypnosis and NLP from an ACHE approved school required for admittance into Level 2 or proof of sufficient training in hypnotherapy from a hypnotherapy school.
Attendance Policy:
Students are expected to arrive on time for class. Students who miss more than 4 hours of class must make up the time either by attending a future scheduled class, completing extra assignments or by arranging private instruction with instructor. Private instruction will result in additional fee of $50/hour.
Recordings of the lecture may be available for students who notify the instructor 4 days in advance
that they will miss a portion of the class. Recordings of the lecture are $25 per day and are available only if the student is absent from class for at least a 4 hour block of time. Fee is waived if student returns the recordings on or before the due date.
Instructor may request your withdrawal from a course or program if excessive absences or tardiness lead to unsatisfactory progress. Students who are unable to continue classes for medical reasons or severe personal problems will be required to take a leave of absence until they are able to return to class. Proper documentation will be required to substantiate a student's withdrawal.
Review Documents
As a prospective student, you are encouraged to review this catalog prior to signing an enrollment agreement. You are also encouraged to review the School Performance Fact Sheet, which must be provided to you prior to signing an enrollment agreement.
Conduct and Probation Policy
All students are expected to act in a mature manner and are required to respect other students, faculty members, and school property. Possession of weapons, illegal drugs, and alcohol of any kind are not allowed at any time on school property. Any violation of school policies may result in permanent dismissal from school.
A student who violates safety regulations, interferes with other students' work, is boisterous, vulgar or obscene, under the influence of alcohol or drugs, or does not make timely tuition payments is subject to permanent dismissal from school.
Any student may be dismissed for violation of rules and regulations of the school. A student also may be withdrawn from classes if he or she does not prepare sufficiently, neglects assignments, or makes unsatisfactory progress. The director, after consultation with all parties involved, makes the final decision.
Instructors may temporarily suspend a student whose conduct is disruptive or unacceptable to the academic setting. After appropriate counseling, students who demonstrate a genuine desire to learn, and conform to school standards of conduct, may be allowed to resume attendance. The director will review each case and decide upon remittance.
Standards for Student Achievement
The school has no formal grading system. Student will demonstrate each skill as it is learned, with student receiving a verbal evaluation of his/her progress. Information will be taught and reviewed to prepare students for an optional examination at the end of the course by a qualifying examiner of the American Council of Hypnosis Examiners. (A.C.H.E.) Only those students wishing to be certified by the A.C.H.E. need take the examination.
To support students in completing the course, if a student is falling behind, they are offered tutoring at the normal tutoring fee of $50/hour.
Withdrawal, Cancellation and Refund Policy
The student has the right to cancel the enrollment agreement and obtain a refund of charges paid through attendance at the first class session or the seventh day after enrollment, whichever is later.
CHA will refund 100 percent of the amount paid for institutional charges, less a reasonable deposit not  not to exceed two hundred fifty dollars ($250) Any notification of withdrawal or cancellation and any request for a refund must be made in writing. A withdrawal may be effectuated by the student's written notice or by the student's conduct, including, but not necessarily limited, to a student's lack of attendance.
A student who does not register for the period of attendance or withdraws at any time prior to completion of the courses, or otherwise fails to complete the period of enrollment shall receive a refund for the unused portion of tuition fees and other charges. The refund for students who have completed 60 percent or less of the course of instruction shall be pro rated. Note: book costs are not refundable.
Hypothetical Refund Example: 200 hour course, tuition = $4,090.00, registration. Total course cost = $4,090.00. Student completes 50 hours of instruction. $4,090.00 divided by 200 (course hours) = $20.45 hourly course charge. 50 hours x $20.45 = $1,022.50. $4,090.00 less $1,022.50 = $3,067.50 refund.
Refund request must be made in writing and mailed to Katherine Zimmerman, 3435 Camino del Rio S. Ste. 316, San Diego, CA 92108. CHA will pay or credit refunds due on a reasonable or timely basis, not to exceed 45 days following the date upon which the student's cancellation or withdrawal has been determined.
Experiential Credit
The California Hypnotherapy Academy does not award credit for prior experiential learning.
Student Achievement
Students must demonstrate proficiency through written assignments and supervised practice.
Grievances/Complaints Policy
All grievances/complaints must be written and delivered to Katherine Zimmerman, 3435 Camino del Rio S. Ste. 316, San Diego, CA 92108. The grievance/complaint shall be investigated and the student shall receive a written response within 10 days.  The grievance/complaint shall be kept on file in the student's file as well as logged into the complaint log. Grievances/complaints not resolved with the Director may be directed to the American Council of Hypnotist Examiners, 619-280-7200 or with Dr. John Butler, ACHE President: John@drjohnbutler.com 
Questions
Any questions a student may have regarding this catalog that have not been satisfactorily answered by the institution may be directed to the American Council of Hypnotist Examiners, 619-280-7200. hypnotistexaminers@gmail.com