The Gathering Your Gifts video course takes you within yourself and helps you to reveal and express your gifts more fully. You can now enjoy this video course at your leisure.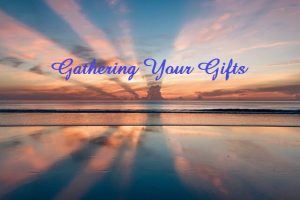 Pre-requisite: none; open to all
8 CE hours for hypnotherapists
Overview
* Session 1: Letting go and receiving
* Session 2: Reclaim Love, Release Fear (due to technical difficulties only the audio is available)
* Session 3: Past Life Regression
* Session 4: Learning to Trust
* Session 5: Future Life Progression
* Session 6: Re-Vision
2 downloads; links expire in 90 days
Includes video/audio and handouts.
Looking for hypnotherapy training?
Many of us in the healing professions are trained in a variety of modalities. For example, I'm a hypnotherapist, Reiki Master and EFT practitioner. I'm also highly intuitive and have taken classes in mediumship. And, while I do combine these modalities effectively, I wonder if I've had additional talents or gifts in the past that would make my work more effective. I am curious about how my gifts might evolve in the future.
My questions have led me to develop this new video course. This course is open to anyone wishing to access their own gifts.
In this workshop you may
• Access your gifts, both known and hidden
• Learn to combine your talents
• Claim new possibilities
• Invite in a deeper life experience
• Draw on past and future life gifts
• Raise your vibration
In this experiential, online video hypnosis course participants will experience the exercises and group processes and leave with a program for their clients. Lecture, group experience. Previously recorded from a live workshop.
Click here for live CE courses
Your online class was just wonderful! I am so excited to listen to the last session and learn about the re-vision process. Looking forward to hearing more about any upcoming online classes. Thank you so much for all the incredible information you share so beautifully. With love and light, Mary Sidhwan, HT

I especially value Katherine's depth of knowledge about all aspects of hypnotherapy. Her carefully crafted sequence of sessions built on one another seamlessly. I gained insights into myself that I hadn't perceived before taking the class. In addition, I have gained tools to use with clients. Anna Kato, HT

Your warm and caring nature and passion for what you were doing makes everything take on a different dimension. You are truly doing your life's work and so creative. Bob Ranger, HT
Instructor: Katherine Zimmerman is an internationally-known author and speaker, Certified Clinical Hypnotherapist, Reiki Master, and EFT Practitioner with a private practice. She is the Director of the California Hypnotherapy Academy offering CE courses and an independent study hypnotherapy program. In practice and teaching since 1989.
Photo by ravi pinisetti on unsplash