Parts Therapy
~10 CE hours
The Parts Therapy Home Study Course offers 10 CE hours for hypnotherapists
Complete the exam and turn in three practice sessions to receive your CE certificate.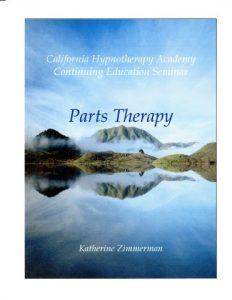 Pre-requisite: hypnotherapy training and age regression
Course description: While many client shy away from age regression, they are open to helping a wounded part heal. In the process of inviting in a younger or wounded part, age regression often unfolds organically. Clients come out of hypnosis and say they feel "different", they report feeling more "grown up;" they feel more "whole and complete." Very often it is life altering.
We have included the highlights of this two day training so that you can learn in the comfort of your own home. No travel, no hotels, no hassle.
Included in your course
• 1.5 hour of live lecture
• 45 page manual
• Outline of process
• Case histories
• Recorded exercise
• Demonstration video
• Sample pre-talk for Parts Therapy
• 2.5 hour conference audio: Coming to Wholeness, Parts Therapy Re-visited
• Exam
• Student Practice Log
• Optional: 60 minute online lab with instructor (Deluxe version)
Click here for an interesting case history
From the manual, page 13

There are numerous ways to work with parts. So far we have learned the following approaches:
1. Meet the part and negotiate a positive change. Ask the part to take on a new job.
2. Suggest that the younger part finish "growing up" and integrate with the client. Because these "parts" often formed during childhood, the part that comes forward may very well be 3 or 5 or 6. It's very frightening for a young part when client is living the life of a grown up with all the corresponding responsibilities.
3. Form a team by inviting several parts in to a room (often called a parts party or conference room technique) and have a discussion about the client's issue. Get feedback from each part. How can they help? These parts may be archetypal and/or simply younger/wiser parts of the client.
 $239.00

Deluxe Edition
In addition to the material above, the Deluxe Edition includes a 60 minute session with the instructor to discuss problematic clients or for a personal age regression session. Appointment in person, via Zoom or phone. A $130 value. 1 CE hour for hypnotherapists. Must be purchased with the course to qualify for discount.

$89.00