The Emotional Freedom Techniques & Hypnosis – Home Study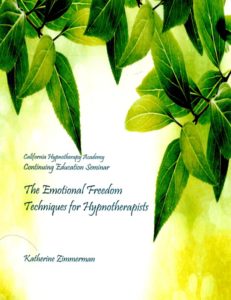 15 CE hours for hypnotherapists
Complete the exam and turn in two practice sessions to receive your certificate.
Approved for 10 CE hours by the American Council of Hypnotist Examiners.Details: http://hypnotistexaminers.org/certification/403-2/
Accepted by IMDHA, IHF, NGH.
Course description
Imagine techniques so simple and so effective that you can finally remove negative emotional issues and blocks that have interfered with your client's goals. The Emotional Freedom Techniques (EFT) are quick and powerful on their own and even more effective when used with a client who is in hypnosis.
You will experience the power and effectiveness of these easy-to-use tools to create immediate and permanent changes. EFT has been called "acupuncture for the emotions" without the needles!
We have included the highlights of this two day training so that you can learn in the comfort of your own home. No travel, no hotels, no hassle.
This material is suitable for those wishing to learn EFT as well as those who simply need a refresher in this subject.
Recommended pre-requisite: basic training in hypnosis.
Included in the your course
Three DVDs, 1 Audio CD, 62 page manual
How to Combine EFT and Hypnosis
Case Histories
Weight Loss with EFT
Smoking Protocol
Tell the Story Technique
EFT Exam
Student Practice Log
I just finished your course on EFT with hypnosis and I absolutely loved it. Janice Jolly, CHT

I spent a couple of hours with the tapping material this morning and it's really good! The first video is excellent. I'm really excited about this course and beginning to include this in my practice. You are very organized and the session you did with Kathy was so helpful.  Jan Weir, CHT
 $329.00

If you already use EFT but would like a refresher you can find one here: https://hypnosis-continuing-education.com/hypnotherapy-dvds/the-emotional-freedom-techniques/
Deluxe Edition
In addition to the material above, the Deluxe Edition includes a 60 minute session with the instructor to discuss problematic clients or for a personal EFT/hypno session. Appointment in person, via Zoom or phone. A $130 value. 1 CE hour for hypnotherapists. Must be purchased with the course to qualify for discount.

$89.00
---