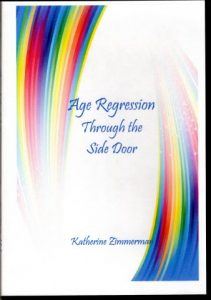 Age Regression Through the Side Door, Katherine Zimmerman
Learn how to regress clients in a less obvious manner that still reaches the initial event and facilitates change. Rescue the wounded child before the Initial Sensitizing Event (ISE). And learn how to deal with a client who doesn't respond as expected and deal with what emerges. This workshop covers two approaches – both a modified NLP approach to regression and a metaphorical process.
This very successful method of regression has helped clients resolve their issues for over 20 years. Whether you simply need a refresher or are new to regression, this workshop will point you in the right direction. Includes demonstrations.
•    How and when to use this method of regression
•    How to describe the process to your client
•    How to determine when you've reached the ISE
•    How to heal the past without re-experiencing the trauma
•    How to anchor the change into their future
CE hours: 2.5
Format: DVD, 154 minutes
$34.95
Katherine Zimmerman is an internationally-known author and speaker, Certified Clinical Hypnotherapist, Reiki Master, EFT practitioner and coaches hypnotherapists. Since 1989, she has taught classes on self-hypnosis, EFT, and other related subjects, along with doing presentations on hypnotherapy at professional conferences nationwide.