Hypnosis Inductions
The best way to learn to hypnosis inductions is to see a demonstration and then practice, practice,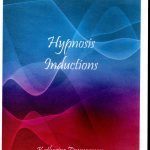 practice. With this DVD you can view the demonstrations repeatedly as you practice.
While there are many ways to induce hypnosis with a client, there are some basic inductions that are time-tested. On this DVD you will learn four inductions:
•  Elman – Clients who do analytical work such as CPA's and engineers, respond well to the Elman induction because it helps to lessen the mind chatter.
•  Eye fixation – great for teens and clients coming for subsequent sessions
•  Progressive relaxation – extremely useful for clients with medical issues
•  Confusion – Also good with analytical clients and can be used as a deepener.
Format: DVD, 67 minutes
1 CE hours for hypnotherapists
While nothing replaces in-person classroom training, you can polish your techniques by studying other people's styles. With our DVD series you can now improve your skills in the comfort of your own home.
$39.95

---