From Fear to Freedom Instructor's Manual
Includes 6 CE hours for hypnotherapists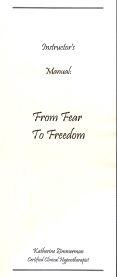 I look for topics to teach that address what is coming up for my clients. The most recent one is "fear."
There will always be something to fear. When we have tools we can deal with fear when it arises and move forward rather than shutting down.
This is a six-hour workshop teaching deceptively simple tools to deal with fear. This is a highly experiential workshop helping students to change their approach to life.
The teaching materials include lecture, exercises, ready to copy handouts, information about advertising, where to teach, tips for making tapes and a resource page. Advertise and you are ready to teach.
Before even completing the course one student reports that she's much calmer now and not dropping into fear based thinking when scary things happen in her life.
This is an easy class to teach and fill as this topic resonates with people.
"I highly recommend purchasing the course From Fear to Freedom.  Katherine has managed to cover the essentials of overcoming fear in a 6 hour course.  It's really quite impressive.  Your clients will love this course and by offering it to your clients you will quickly become known as an expert in your field." David Parke ~ http://lifeafterfear.com
Initial Earning Potential: $1,300 (based on ten students)
$229.00