Integrative Hypnotherapy
Offering independence, flexibility, and support
Next course begins July 7, 2020
The July training meets live, online
Given the uncertainties regarding when the current lockdown conditions might be eased, the July 2020 class will be meeting online. I am looking forward to teaching my in-person training course when that becomes possible again. In the meantime, I will offer online hypnotherapy training in a high-quality format so that prospective students can study hypnotherapy despite the present circumstances.

I have great deal of experience with webinars and online sessions as I've been conducting online hypnotherapy sessions with clients since 2006 and groups sessions since 2014. You can rest assured that your online hypnotherapy training is of a professional standard designed for you to have a highly effective learning experience to become a proficient and successful practitioner.

The online hypnotherapy training courses will include a combination of:

– live interactive demonstrations,
– specific recorded content that can be viewed multiple times by the student,
– closely supervised live practice sessions in breakout rooms and

This is a comprehensive training experience making the fullest use of online technology with live, interactive teaching and close personal supervision.
We have many options these day for hypnotherapy training. One of the most popular is distance learning. On the one hand, it allows you to learn at your own pace and in a time frame that fits into your schedule.
On the other hand, hypnotherapy isn't easily learned solely from videos. Here is what I believe you need in order to be successful after you graduate: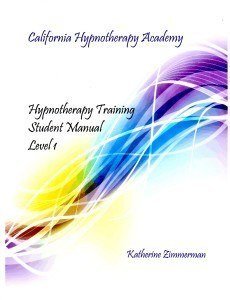 Supervision: Students who are in class with me hear the lecture, ask questions and see a live demonstration. However, when they pair off to practice they sometimes still feel lost. If all you have is reading material and a video to view you will stay lost. That's the value of supervision. An instructor is there to correct you and guide you as you learn.
I have been supervising students since 1994.
Clear your issues: Life has a way of leaving us burdened with traumas from the past. For those learning hypnotherapy online, there is no opportunity to clear those out. Unfortunately, you would then be unable to fully assist your clients when they present similar issues. And they will. In the independent program YOU will be the subject as you learn the material from the inside out, allowing you to heal your past. And, rather than working with a novice, most of the time you will be working with your experienced instructor.
I healed so much of my past after learning hypnotherapy that I was able to leave a dysfunctional marriage.
Learn from an expert: Everyone and their brother now offers online hypnotherapy training. I believe that it's important to learn from someone whose teaching style matches your learning style and someone who has been in practice for a minimum of five years.
I have been in practice since 1989.
Learn about the history of hypnosis here
     "I met Katherine back in the 90's. I was interested in hypnotherapy and became certified at the ARE in Virginia Beach but had many of Katherine's books. She had the best scripts by far and one day, I noticed her office address on the back of a book and saw she was also in Sacramento. I was so excited and called her immediately. She was so gracious and allowed me to meet her at her home to "pick her brain" a bit.
While hypnotherapy is not a career for me, it's always interested me and I believe Katherine is top notch in the field. She has so many years of experience and I've taken my daughter to her on several occasions for sessions which worked wonders. I have a close friend who attended and graduated from Katherine's academy in Sacramento and she always boasts of how much she loved it and learned so much before going into the field herself. Years later, I was able to assist Katherine in selling her home when she relocated to San Diego. I absolutely recommend Katherine very highly!"    ~Christine Koerwitz
Field tested coursework: In order to determine if a course works, it is necessary to teach it in a live class. Once the material has been modified to fit a classroom environment it is ready to be offered as an live  program.
I have been writing course curricula and teaching personal growth classes since 1989 and teaching hypnotherapy since 2000 and my own curricula since 2007.
What students receive:
Manuals for each level.
Audio lecture recordings
120+ hours of small group instruction in person or via Zoom for the 200 hour program.
Five demonstration mp4 videos
Two e-books: Hypnosis in Action and Business Solutions
Ready to register? Contact me for a brief phone or in person interview.
 My program is open to student members of ACHE. Student Membership is limited to persons who are enrolled or preparing to enroll in an ACHE-approved school. This membership is valid for up to two years. Like Certified ACHE members, Student Members are eligible to receive the ACHE newsletters as part of their membership and to receive the discount to ACHE Conferences. To maintain ACHE membership, within two years a student member needs to successfully graduate from an ACHE-approved school and apply for certification via the ACHE application form. Until the student becomes certified, if the student advertises ACHE membership he/she must clearly state being a "Student Member" with no reference to certification. The $25 fee for Student Membership is deducted from your certification fee if you graduate within two years of applying. Student membership is included in your tuition.
Comment from graduates:
"Studying in the Independent program has been a double-blessing – not only do I get the flexibility of fitting the training around my schedule but I also get the opportunity for one-on-one instruction with a master teacher in the hypnotherapy field. Katherine is extremely thorough and extremely professional and I feel like I am getting the depth of training necessary to adequately prepare me to be a confident and successful hypnotherapy practitioner." Nicki Parr, M.A.

"Katherine is a wonderful teacher and her course is outstanding at every level. Her teaching style is hands on and the classes are very participatory. Students begin practicing hypnosis during the very first weekend class. Katherine's style is to discuss a technique (and she teaches many), then demonstrate it with one of the students. After that, the students begin practicing it on each other, under her close observation. Within a week of my first class, I was successfully using the techniques she taught us with my own clients. The results have been nothing short of remarkable. What I thought would be just another tool in my therapeutic toolbox, has become one of my primary tools. I wholeheartedly recommend Katherine and The California Hypnotherapy Academy to anyone interested in learning more about hypnosis and hypnotherapy." Ray Brown, PhD, LMFT, CCHT

"You are one of the best instructors I have ever had. You are organized and present the material in a professional manner. Your instructions are easy to follow and you are patient with the class. It's obvious that you enjoy what you are doing and love hypnotherapy. This course has offered me growth – I could never figure out 'what I was supposed to be doing', but I've found it now.  Too bad I didn't figure this out sooner – but it's not about the quantity of time, it's quality… So, I will go forth and do good things and always be very grateful for the good training I received from you."    Kathleen Spring, CCHT

"The Hypnotherapy Certification Training I've taken with Katherine
Zimmerman was the most valuable training I've experienced. If your
experience is anything like mine you will learn to help clients clear and
let go of the emotional debris of their lifetime wounds. Designed with the
utmost of emotional safety and professional integrity, this training  gives
you the skills to help clients (and yourself!) transform self limiting
thoughts, beliefs, feelings and behavior in the most efficient and
effective ways. Training with Katherine Zimmerman will give you every
technique necessary for your effectiveness with clients.   If you're training
with Katherine, you are in for a treat!  I urge to take this next step,
really step up your professional and personal growth…… your clients and
you deserve it."  – Donna Jean Rains, CCHT
Please contact me at info@trancetime to discuss how you can benefit from this valuable training.
Ready to register? Contact me for a brief phone or in person interview.
The California Hypnotherapy Academy has exempt status with the State of California BPPE per CEC 94874 (A) (D-1) (D2c)