Stress Reduction/Self-Esteem Instructor's Manual
7.5 CE hours for hypnotherapists included
These stress reduction and self-esteem workshops are designed to be taught as a follow-up to the self hypnosis workshop or they can stand alone. They cover some basic information about hypnosis for students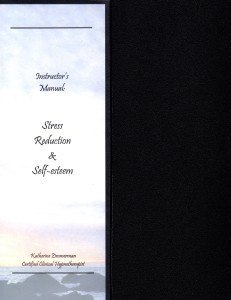 with no experience.
This material will be immediately useful in increasing your income. Teaching opens doors whether you are just starting your practice or looking for new avenues of income,. It is an easy way to become known in your community and increase your private clientele. I find that many people begin to open up during the class and move from there to private sessions.
From a purely practical standpoint, teaching provides a good income. For example, you can easily charge between $15-20/class hour. The Stress Reduction Workshop is designed to be taught in one 2½ hour session. At $65/student x 10 students your income for that 2½ hours is $650. I recommend that you limit the size of your class to 10 in order to ensure a quality experience for each student. The Self-Esteem Workshop ($119) is taught in two 2½ sessions. With 10 students your initial income would be approximately $1,190.
Everything you need to teach these workshops is included in this manual: Word for word lecture, ready to copy handouts (with room to add your name and logo), exercises, scripts, information about advertising, tips for making your own tapes, resources for purchasing supplies, ideas on where to teach, and presentation tips.  Don't be fooled by similar "courses" that are simply a collection of information. I include everything that I have used to teach these workshops.
The workshops offered in this manual may be used as an in-depth follow up to the self hypnosis workshop or they may be taught separately. It's also possible to pick information from either topic for a shorter presentation. I often make a 90 minute stress reduction presentation to groups by pulling selected information from the workshop. I simply use fewer exercises and less discussion and writing.
"I love the other workshops [Self Hypnosis Training and Stress Reduction/Self-Esteem] that we've gotten!"
– Barbara Lynn, CHT

"A wonderful, wonderful tool. I'm already teaching classes. Thank you!" – Sara Payne, CHT

"I thank you for putting together such a high quality program.
Linda Knight, CHt.
Hypnotherapy Associates of Grand Rapids
Initial earning potential: $1,900 (based on 10 students)
Customers who purchased this manual also bought the Learn to Love Yourself Manual: http://trancetime.com/store/teach-hypnosis-classes/learn-to-love-yourself-manual/
$269.00